About Us
MF Chappell Wine Merchant believes:
Wine is agricultural — we stock real wine from land tended by real farmers.
Quality wine is abundant and diverse — we strive to carry a great selection.
Wine shouldn't be confusing — we educate you to know your palate.
The most expensive wine is the one you don't like — we'll remove the guesswork.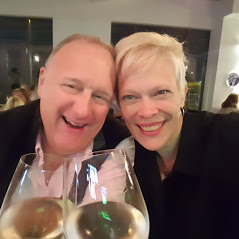 We'd like to say that we moved to the Crystal Coast to retire, but we're too young, too energetic,
and too financially unready just yet. So, since we'd have to work, we chose our passion and said, "Why
not open a wine shop?"
We've got the chops. Jen passed with distinction the Level II Award in Wine from the the Wine and
Spirits Education Trust in London. I am both a Certified Wine Educator and Sommelier.
Between us we have seventy+ years of experience in restaurants, hotels, retail, and sales. We thrive
on customer service. Our job is to have you return and tell us just how perfect your wine selection was.
Please reach out to us at [email protected] or [email protected].